ROOF CLEANING/ MOSS TREATMENT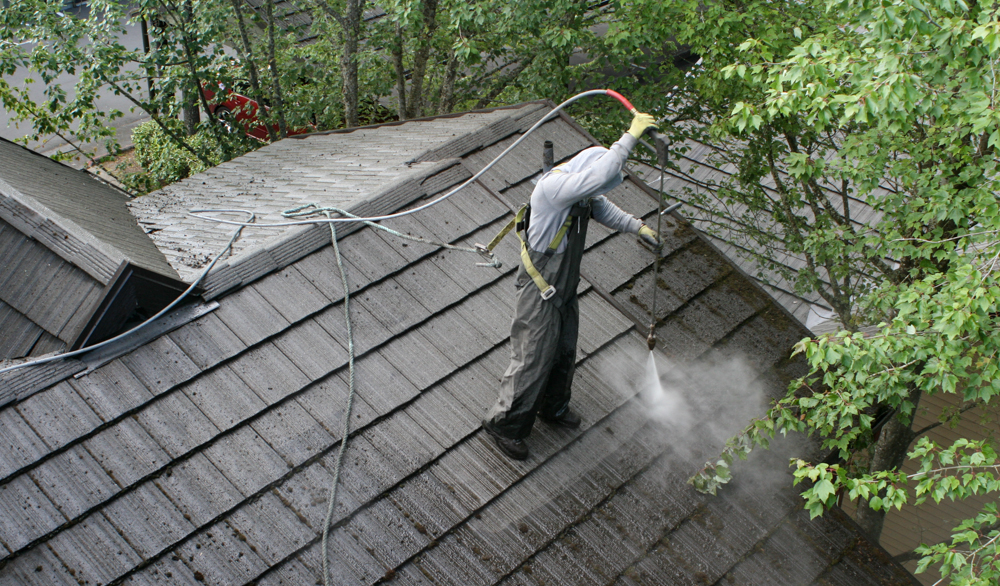 Roof Cleaning and Treatment are not just a cosmetic benefit to your community.  They extend the life of your roofs and gutter systems, and can prevent a lot of expensive water damage.  We recommend roof cleaning any time of year (moss tends to grow the most during the shorter and wetter days of fall and winter).  Shingle roofs should be cleaned in weather above freezing, because they tend to be brittle and break.  Roof cleaning should be one of the first maintenance services you do during the year.  Like in pressure washing, we recommend starting your yearly maintenance from the top of the roof working your way down (finish with flower beds and or pavement).
---
Roof Cleaning Service includes:
• Roof cleaning by pressure washing method or compressed air methodFull gutter and downspout cleaning on roof cleaned buildings
• Guarantees same day removal of moss chunks and debris
• All hard surfaces on ground level surrounding work area are cleaned (sidewalks & parking)
• Visual inspection for broken tiles and shingles (repair list will be provided to property upon completion)
Moss Treatment and Prevention Service includes:
• Loose/dry debris will be blown off of rooftops, and surrounding hardscapes
• Applying all natural Zinc Sulfate to all rooftop ridgelines and mossy areas on roofs.Finnmark does not use "detergents" or "secret treatments" to treat your roofs.  Many times those contain bleaches which can be corrosive to valley metal, roof venting, and gutters.
• Moss killed by the zinc application will turn black and shrivel up.
• Process takes a couple weeks depending on rainfall.
• Service does not remove moss, but treats and prevents further growth.